Name: Obito Uchiha
Nickname: N/A
Age: 23
Gender: Male
Rank: Chuunin
Village: Konohagakure No Sato
Personality: The young Uchiha is constantly tardy for anything. Whether it be a mission, meeting, or training. He would often come up with excuses that he was doing good deeds. When he would begin to cry, he would say that something got into his eyes. Which is rather impossible considering that he wears goggles over his eyes. Obito is a careless attention seeker and very reckless. Despite all this, he is never screaming out or recklessly challenging unless forced.
Appearance: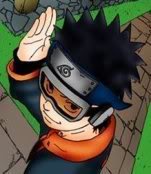 Bio: Obito graduated from the Ninja Academy at the age of 9, and was promoted to Chūnin at the age of 11. During the Third Great Shinobi World War, Team Minato was assigned the task of destroying the Kannabi Bridge. Because Kakashi had recently been promoted to Jōnin, he was to be left in charge of the mission. Before setting out, however, Minato Namikaze and Rin gave Kakashi gifts, something Obito forgot to do. Minato left them to go fight on the front lines, and Rin was soon captured by Iwagakure forces. Kakashi chose not to go save her, placing the mission's completion first, but Obito refused to comply, stating that, while those who break the rules are scum, those who abandon their friends are worse than scum. They parted ways.
Obito's Sharingan awakened.
When Obito found where Rin was being held, he was immediately attacked by Taiseki. Kakashi, having had a change of heart, arrived in time to save Obito, and Taiseki used the Hiding Camouflage Technique to disappear. Invisible, Taiseki was able to damage Kakashi's left eye. To save his teammate, Obito awakened his Sharingan, immediately proving proficient enough with it to locate and kill Taiseki. Obito and Kakashi went to save Rin, but once she was freed, an enemy-induced cave-in started. They barley made it out alive..
Years have passed since then, and Obito still holds his title Chuunin. He hopes to one day be promoted and rise in the ranks. But until then, he enjoys his life in Konohagakure.
(I know he dies, but I had to change it. :P)