Name: Hotoke Kojii
Nickname: Yure Anei [Flickering Shadow], That Freaky Kid, The mad doctor.
Age: 15
Gender: Male
Rank: Genin
Village: Konoha
personality: Sometimes, talking to Kirai is sort of like trying to talk to a brick wall, you will probably get no responce what so ever, this is because of the fact he had been trained by a group of thugs and assasins to become the perfect killing machine. In terms of battle he prefers to go straight for a quick, clean kill using his senbon to hit specific 'kill' spots than pull out a battle where he might not look so coo- he might become tired. *cough*
Despite the fact he has been trained in such a manner as to become all but a robot, Kisai is rather flirly being the age he is, and can be somewhat idiotic despite the fact he graduated from the academy with perfect scores during both tenures when he was a child and when he was older. Towards females [and cute males to be honest] he is a complete flirt [oh, fine, hee's a complete tramp. ]. Usually, he is fun-loving and quirky, up until he intends to fight which is when his instinct kicks in and he becomes brooding, dark and pretty evil thanks to the chakra glowing through him.
Appearance: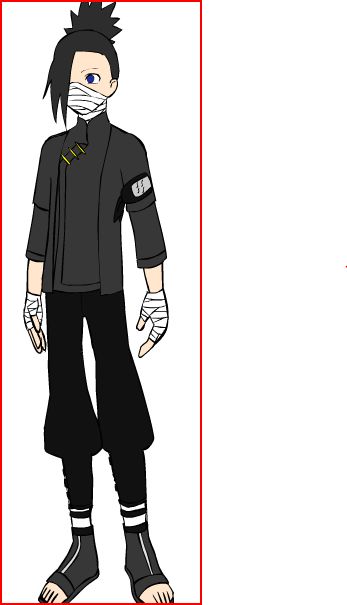 Bio: The boy was born as Hotoke Koji in a small village a short distance away from Konoha, of course even if you asked him he would not be able to tell you exactly where this village was, or what it was called. Though he moved at a young age to Konohagakure. His parents were not exactly the perfect couple, as they constantly bickered and fought, which was probably the main reason for the sheer terror the boy soon experienced on his journey.
As the peeks of Iwagakure grew ever closer to the tiny eyes of the young boy named Koji, which seemed to shine like a fairy had replaced the real eyes with two beautiful gems, yet another annoying, childish argument began between the two 'parents'. The man, named Kuro, was concentrating more on trying to win this fight with his wife than steering the horse-drawn cart the couple owned as a primary means of transportation.
This lack of concentration of Kuro's part caused the carts wheels to suddenly snapp, and the cart qto suddenly fall across a tall hill, flying down towards the ground in a wreckage of wood and dirt, a child's horrified screams being heard from the back, a couple screaming as their child slides out of the side of the cart, while they hang on for dear life, not even an attempt at saving the child being seen.
As the cart slid suddenly off of the muddy track of rode heading towards Konoha, the boy watched in sheer terror as the cart flew down the side of the cliff, his parents attempting to claw their ways back up the side of the cart in some sort of stricken attempt to save themselves. It was not to be though, as soon after the childs parents were both lost. The boy stood on the spot for almost two day, thumb in mouth and eyes still sparkling, hoping in vain that some sort of magical creature might just come along and save them both, and they would realise how childish they had been and reunite the happy family for ever.
Sadly, he soon realised that this was not to be. Another day passed as the boy became a little weaker with each passing hour, the cart's leftovers being nothing more than scraps. Thankfully for the boy a group of passing 'salesmen' found him on the eve of the fourth day and rescued him, taking him back to their small ship which was docked on a small Wharf a short ways away from Konoha.
Again, the boys life took a rather sickening turn. The men that had found the boy were not all he had hoped for. He soon realised they were nothing more than thugs and murderers, local assasins for hire from Amegakure who had been hiding out from the local police for crimes ranging from petty theft to cold-blooded murder. Soon after the boys fifth birthday he was taken away from his sub-par existance and smuggled through the country and toward Amegakure.
Here, along with a few other children his age, no older than eight, Koji was trained to become a special part of the small group, he was trained to be a heartless, cold-blooded killer, a pawn for the organisation. Specialised drugs were tested on him, toxins and tonics were all forced upon the child in hopes of creating some sort of super-killer, something that could easily defeat most any opponent, though to no avail. He was experimented on specificly to attempt to make him a member of a clan he was not by birth. The drugs did have some obvious effects, as well as the training regime, as the boys skin became pale and his eyes darker, as-if they were the eyes of a dead-man, they were abscent and rather scary. His eyelashes grew thicker and black, taking on the appearance of one who wore make-up, and he was forced to smile constantly, as-if he was happy.
Soon after his training was finished at the tender age of eight Koji, now named Anei Yure, was trained in his current Village's jutsu, so as to bring an illusion that he was actually a member of an Amegakure genin squad and allow him to further infiltrate Konoha for some random reason or another the slightly idiotic group had come up with.
A year later, after his training was completely, Anei was shipped off to Konohagakure with two of the other children and one of the 'minders' of the group to act as a new Genin team from said village. Again, their half-baked scheme was very easily sort out by the village guards and the man was quickly killed, while the three children were captured quietly. The first two children were easily identified by passers-by as two children who had been taken while their parents were busy dealing with shopping, or other children or even cooking, and were taken by the group in the blink of an eye. The third however, Anei, told the interrogating village Shinobi that he had no family, or friends, and no home to live in. So, the man took it upon himself to raise the child, who's name was changed to Koji as the man realised that the boy was a kidnapped child from said clan, in hopes that he could change the boys mentality and reform him into a typical, everyday child.
Sadly this was not to be as the boys mind had been harmed too harshly to become anything other than what it already way, a complete shell of a normal human mind. Instead, the man treated the odd child as his own, and raised him as such, whilst also training him to become an official Genin within the village. Soon after his capture, Koji was promoted into an official Konohagakure Genin, but for some odd reason was not placed on a team. This standing stuck for almost four years, until the boys fifteenth birthday.