Name: Kazu Hayabusa
Nickname:
Hell Dragon
Age:
26
Gender:
male
Rank:
A-Rank Missing Nin
Former Rank:
ANBU
Village:
Iwa
Former Village:
Kumo (In Story)
Affiliations:
None
Elements:
Lightning, Fire, Wind
Kekkei Genkai:
Dragon Blood- As a result of the Dragon Blood within him from his clan, the user's base chakra level doubles for an instant, however, the user later learns to increase the effect of the Dragon energy to higher multiplications. Its very similar to Senjutsu with the strength which makes a clan of sages of sort, but with still the transforming powers, by means in which case having dragon transformation attributes.
Personality:
He is an extremely powerful ninja. The benefit of his training every single day,has allowed him to become more durable, faster, and stronger. He has indeed earned the title of "Dragon Ninja". Kazu is a master sword fighter, archer and martial artist. He's a cold person to everyone he knows, ruthless in battle and he dosent bother anything that dont interest him, has a strong sense of justice and zeal to fight stronger opponents are what he believes to drive him to carry out his destiny. He tends to not get along well with others and prefers to work alone.
Appearance: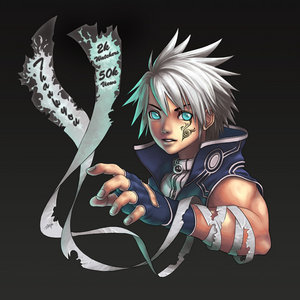 Bio:
Childhood Arc: Kazu was born on Nov 14 in the land of the rock village from the Hayabusa clan, he had both parents who was raising him well, until one day he found his father by the porch, wanting to speak with him he was really a kind hearted kid who always stayed positive no matter how tough it got, as he reached to his father before speaking to him, his father has went away for a few years on a mission to come back. As the years pass till he was 11 training vigorously with his gradnfather to harnest his clan's e element soon his father has returned, with a bright smile Kazu hugged him happy for him returning home safely.
Academy Arc: During this Arc, he is still the kind hearted kid from the Dragon clan, but he somewhat got more serious than he usually is. He was always top of his class, good grades, skills are good enough but he stills needs practice, after the academy he went to the library he found a book on the history of the Kumogakure. There was one that was named that kinda shocked him as he read about the Kumo origins and how they are related to Rock village he was shocked of how he was the best ninja he ran home to his father hoping he would discuss him. As soon he mention his name his father's eyes smiled so big like he saw him himself or something, but soon after of pleading and begging his father finally told him the story of him. His father did wanted Kazu to be best he could to come close to his level, after a few weeks of training Kazu, his father sent him to seek out the past Raikage to learn all that he could know.
Genin, Chunnin Arc: As a genin he seek out the ninja of Kumo he had been training nonstop all the way to the Chunin exams, he learned very little in a short period of time even though he didn't know much he manged to pull being a apprentice of a kage and the prodigy elite of a clan. After a few years still training under the Raikage and visiting his home from time to time he got stronger and stronger even his physical and Chakra power was almost enomous thanks to the Kage.
Jounnin, Anbu Arc: After a year or 2 of going on mission, and handling Iwa and Kumo kage's personal deeds they voted that he should be a rank high then he should be. After Kazu gets granted to the Anbu rank a meeting of the Kages was ajourned he didn't know it was going on until he walked into the hallway of the summit to report to the Kages. He evesdropped into the meeting hearing that the Raikage will sacrifice many ninja preferably the ANBU with out a care which devestated Kazu to the fullest which cause to think otherwise of his presence in Iwa and Kumo even though the Raikage almost taught him everything he knew. Enraged Kazu walked away storming off as his mind was clouded with Rage and Judgement.
Defecting, S-Rank Missing Nin: As the time goes on for the dragon ninja still enraged by the kages statement in the past meeting it was time to take action. He went up to the Raikage tower then confronted him of his statement in the meeting. It seemed he didn't care of the people as long he stayed at the higher ruler of this land. Therefore the Raikage stated that Kazu was defected and immediately executed. Kazu manged to escape barely with his life. After Abandoning both Iwa and Kumo due to his confrontation being framed Kazu was now a Missing Nin and a strong one too. As of today he remains confused of what to do with his life now that he was a strong defective ninja, he wanders the ninja world to figure what lies ahead for him next.
Rp Sample: Kazu was on the road to the strongest village in the land of fire, he had his regular blue hoodie attire (Avy) with his black ninja shoes and his backpack on his right shoulder with his other hand in his pocket. He had his hood on covering the top half of his facial features. He arrived at the gate seeing how huge it was, he yawns a little after the long travel, slowly pacing his steps slipping through the opening he glanced seeing how busy it is in this village, he sighs under his breath "....I hope this is worth it" he said as he pulled his hood off, revealing his wild light brown hair to the open and his new hurricane headband which he received from the snow village which provoked him to come here "Ok I can get used to this, much more active then the jungle village"